March 29, 2010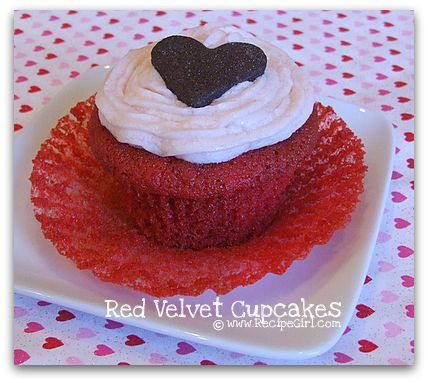 RED VELVET CUPCAKES
www.RecipeGirl.com
3 cups all-purpose flour
2 tsp unsweetened cocoa powder
¾ tsp salt
3 large eggs, at room temperature
¾ cup butter, at room temperature
2¼ cups granulated sugar
1½ tsp vanilla extract
1 ounce bottle of red food coloring (2 Tbsp.)
1½ cups buttermilk
1½ tsp baking soda
1½ tsp vinegar
Buttercream frosting
1. Preheat oven to 350°F. Line cupcake pans with paper liners.
2. In a medium bowl, whisk together flour, cocoa powder and salt. Set aside.
3. In a large mixing bowl, beat butter on medium speed for 30 seconds. Add sugar and vanilla; beat until combined. One at a time, add eggs; beat on medium speed after each. Bet in food coloring on low.
4. Alternately add flour mixture and buttermilk to egg mixture; beat on low-medium after each just until combined. Stir together baking soda and vinegar. Add to batter; beat just until combined.
5. Fill cupcake liners two-thirds full. Bake 15 to 17 minutes, or until toothpick inserted near centers comes out clean. Cool pans on wire racks for 10 minutes. Gently remove cupcakes from pans; cool.
6. Frost with buttercream frosting.
Yield: About 28 cupcakes
Posted by Jemma Nyagah. Posted In : recipes